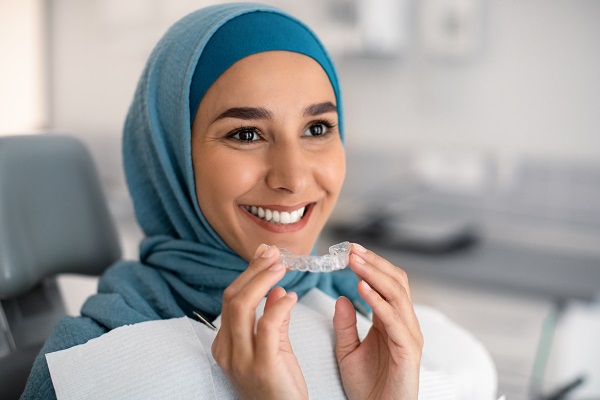 Thinking that Invisalign® clear aligners are a good choice for you? While there are different types of teeth straightening options available for you to choose from nowadays, if you are taking this option, it means that you want to experience the many benefits that come with choosing this straightening option. Ready to learn more about what to expect for the first week?
How Invisalign works
Understanding how Invisalign works the first thing you need to do when considering undergoing this popular teeth-straightening option. While many people choose this option because of the many benefits Invisalign offers, it is essential to follow all of the dental professional's instructions in order to expect successful results. Invisalign works by wearing a certain number of clear aligners for a certain amount of time, while each set of aligners work to move the teeth into their proper positions. Once the last set of aligners are worn, the teeth straightening process is over.
What to expect the first week of Invisalign treatment
It will likely take new Invisalign wearers a little bit of time to get used to wearing their sets of clear aligners.
Soreness and/or irritation
There can be some degree of soreness and/or irritation experienced during the first week of wearing Invisalign clear aligners. This is due to the pressure that the aligners place on the teeth, as this is the necessary process for moving teeth into their correct positions. This first discomfort tends to start subsiding during the second week, making it less necessary for new wearers to address any discomfort using over-the-counter pain medications.
Practice talking
Many patients will need to practice talking when wearing their new aligners, as it does take time to get used to wearing this dental appliance. Some patients will find it difficult to say a few words or feel they are talking with a lisp. This makes it a good idea for wearers to practice talking at home before talking when out in public for the first time. Understand that practicing talking when wearing aligners is considered to be completely expected, so this is to be expected.
Practice inserting and removing
It may take new Invisalign wearers a little bit of practice when it comes to inserting and removing their aligners. This learning curve usually only takes a few days to get used to, so new wearers will learn how to insert and remove in a matter of no time at all. It is important for the aligners to be worn properly in order for them to work, making it essential for patients to carefully follow all instructions for inserting and removing their new Invisalign aligners.
Other tips and tricks for the first week
A few beneficial tips and tricks new Invisalign wearers can use include protecting your tongue when necessary, treating any discomfort as soon as possible, learning the movements that allow the aligners to be inserted more easily, keeping track of the time the aligners are out of the mouth and carrying a dental kit to ensure the aligners can be cleaned at any time.
Ready to get the process started?
Have you decided that Invisalign clear aligners are the right choice for you? If you have, your next step is making a consultation appointment for a detailed treatment plan. Once you get your set of clear aligners, you need to find a routine that works for you. Know that once you get past your first week, you will quickly get used to wearing your custom-made clear aligners.
Are you considering Invisalign to straighten your teeth in the El Dorado Hills area? Get more information at https://dexterdds.com.
Check out what others are saying about our dental services on Yelp: Invisalign in El Dorado Hills, CA.
---
Related Posts
July 5, 2023
Invisalign is a way for adults to straighten their smiles without others around them noticing. It is an innovative solution and a great method of teeth straightening for adults and older teenagers …